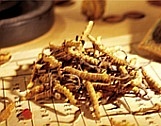 BAOHETANG-Health food

Cordyceps Militaris
Embrace Vitality From Natural Energy
Jointly developed by Tsinghua University(College of Life Science) Longrich Biotechnology Institute and Longrich (USA) Health and Cosmetics Research Institute.
Product quality assured, its contains a high of 1.1% cordycepin which is 300% far better than those common cordyceps sinensis.
Advanced enrchment process, with anti-aging and tumor inhibition function, it helps improve blood circulation and enhance immunity.
Suitable for: People with low immunity.
Not suitable for: Children, pregnant women and breastfeeding women.
Dosage & Directions for Use: Take 2 capsules orally, once a day.
Specification: 0.5gx 60 capsules
Shelf Life: 24 months
Date of Production: See on product's bottle
Storage: Store in a cool, dry place.
Recommended Products ---------------------------------------------------