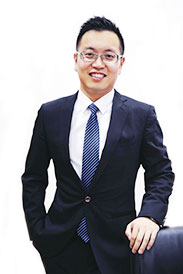 Sean Xu. CEO
Welcome to Longrich,
China's FMCG market is growing fast in parallel with its economic boom. The complexity of today's buying behavior of the global consumer has increased the need for firms to implement effective and stronger marketing strategies that meets customers' expectations both in terms of quality and added value.
The past 30-year growth history of Longrich has left us cherished traditions that features a spirit of dedication, diligence and perseverance in everything we do.
In 2014, we took a small step forward towards differentiated competition and have made breakthrough in stock keeping units. Today, we are so proud to know that our products are gaining the trust and recognition from millions of people not only in China but also abroad. Today we continue to invest many efforts into the development of more innovative and high quality products so to meet that even higher expectation from all our clients.
With the guidance of our Chairman, we will develop this year a "new innovative-driven growth strategy". To be able to do so, we will focus on value management and identify our differentiated strengths in products and services in an effort to realize our unique advantage. We will diversify and improve our information and communication system, streamline internal process, budget control so to upgrade our management efficiency.
We firmly believe that the rigorous, efficient and effective internal management system that we will implement will enable us to stand and position ourselves into this fierce competition of the beauty industry.
Furthermore, we will keep improving customer's experience by combining experiential marketing and internet marketing together, thus providing a more convenient online and offline shopping environment for all our customers so as to maintain and increase our market share, size and growth opportunity.
I wish Longrich customers, partners and employees fulfilled dreams, good health, great happiness and well-being in 2016. We will strive relentlessly to fulfill our mission of being committed to a healthy and beautiful lifestyle. Thank You.